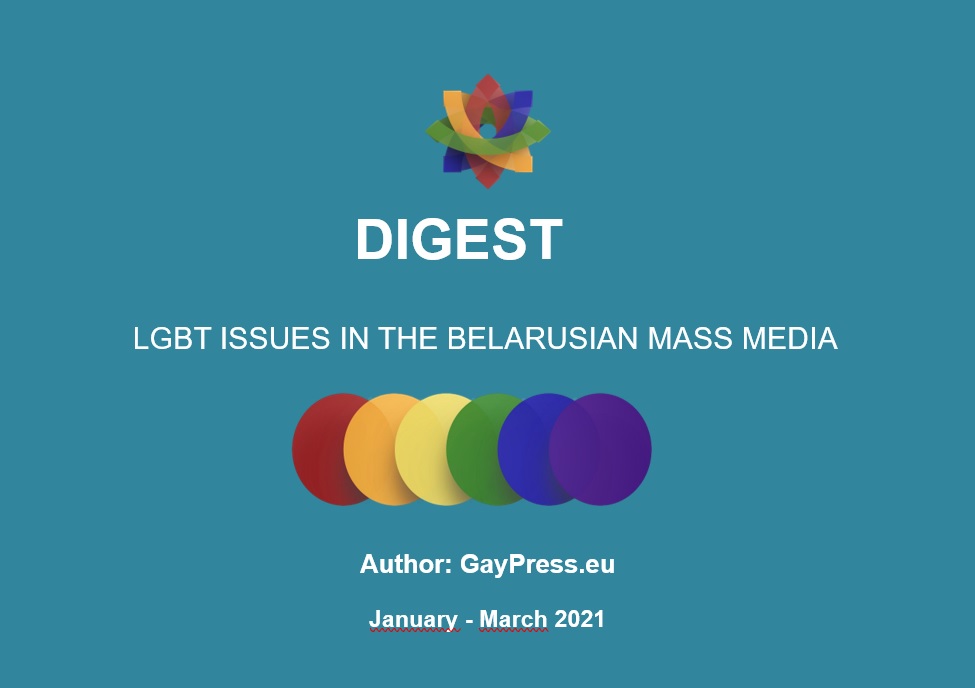 DIGEST LGBT ISSUES IN THE BELARUSIAN MASS MEDIA January — March 2021
The Belarusian LGBTQ+ media agenda was largely influenced by the general socio-political events in the first quarter of 2021. As usual, failing to find any intelligible arguments, the propaganda turned to the time-tested cry "They want to impose LGBT values on us".
It was most clearly observed in the specific rhetoric, which was used by a propagandist George Azaronak. His opuses caused a lot of discussions in the social media and evoked the appearance of numerous memes.
As always, "Vecherniy Mogilev" "made everybody happy", bursting out with a voluminous and confusing text, named "The war for the destruction of the Belarusian family. Gender Satanism».
The publication is not for the faint of heart. It is full of religiosity and attacks on the EU and NGOs.
Just have a look at this quote: "And without religious means, the first of which are the fear of God and the recognition of oneself as a servant of God, all socio-anthropological projects of personal spiritual self-development, which, as in the case of soup from an ax, almost immediately need peculiar "supports" in the form of the police and the prosecutor's office, the party and the NKVD, the newspaper Pravda and BBC News, lead exclusively to hell."
The LGBT thematic was also reflected in the official comment of the Ministry of Interior of Belarus that was published by a number of prominent mass media, including one of leading Web-portals Onliner.by. The ministerial officials discovered brochures of 'Journalists for Tolerance', which were presented as 'the literature that propagates LGBT-values'.
Also, there were other reasons for anxiety, including the so-called draft amendments to the Belarus Law 'On Counteraction to Extremism' (more details can be found in the Digest below).
Despite the said above, the analysis of Belarusian mass media field shows that the mentioning of LGBTQ+ thematic was mainly positive in the independent media within the first quarter of 2021.
Large mass media posted information about LGBTQ+, educational diversity events, interviewed the community representatives and published other topical materials with the use of correct vocabulary.
The GayPress.eu Web-site editorial published a range of news items, analytical, enlightening, and entertaining materials, including video content in the first quarter of 2021.
Among the references to LGBT in the Belarusian Internet, there started to pop up dating messages in the seemingly outdated ad format.
It becomes a tradition to mention LGBT on trading grounds. Thus, the Belarusian entrepreneurs sell rainbow flags. However, the cost differs from place to place, starting from approximately EUR 4 on Kufar to EUR 20 on Deal.
DOWNLOAD DIGEST LGBT ISSUES IN THE BELARUSIAN MASS MEDIA January — March 2021