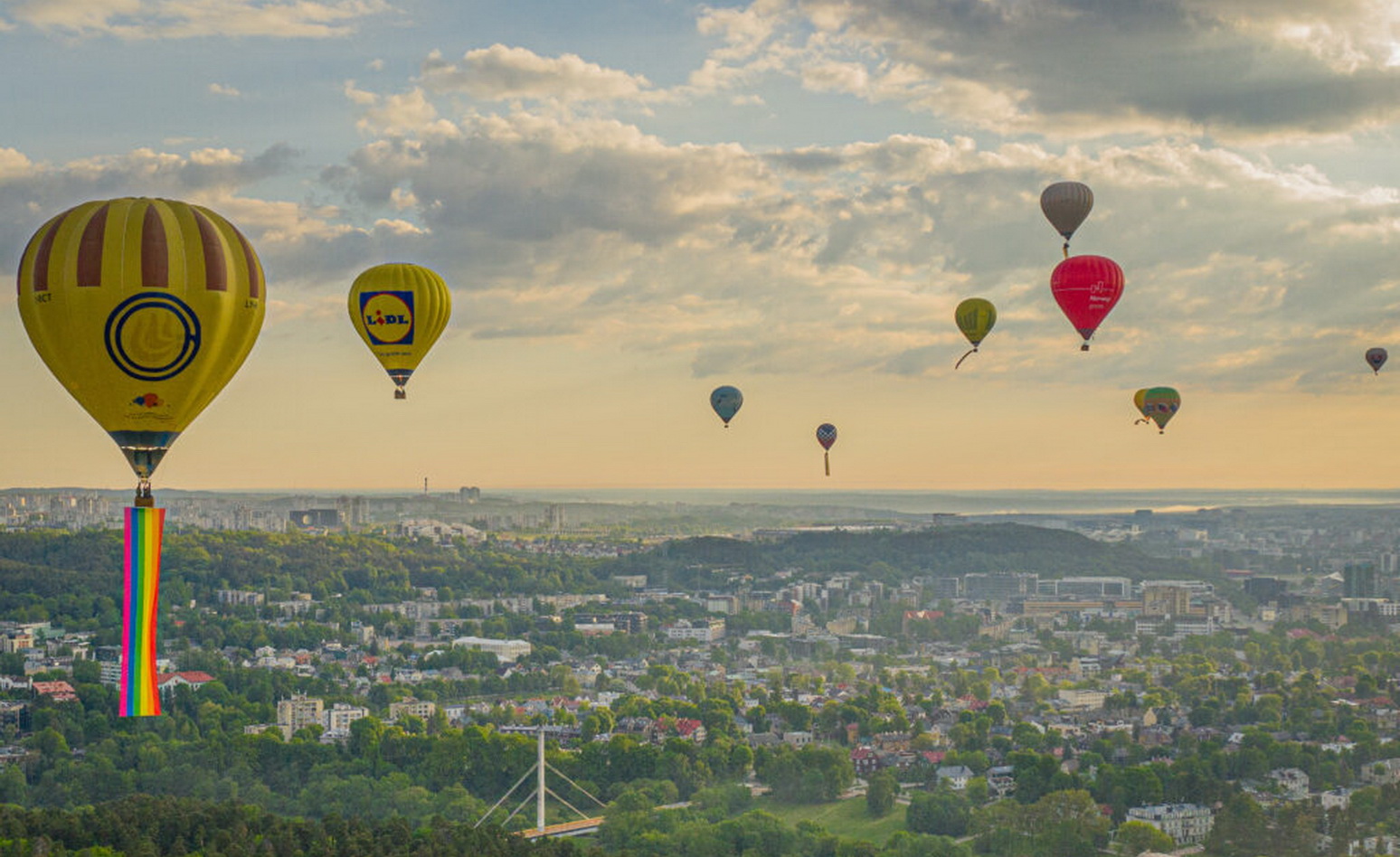 Baltic Pride 2022 Footage Featured in the National Geographic Documentary "Pride from Above"
Hot air balloons with huge rainbow-coloured flags fly over Vilnius. This is what the viewers of the documentary "Pride from Above" produced by the television giant National Geographic saw.
The spectacular images were captured on June 6, 2022 at 5 a.m. There were 8 hours left before the Baltic Pride 2022 march on Gediminas Avenue.
Balloons flying over Vilnius with rainbow-colored flags were shown at the beginning, middle and end of the film "Pride from Above". Viewers of the 44-minute documentary saw LGBTIQ marches in Sydney, Montreal, New York, Brighton, Johannesburg, Mozambique.
The film features pride manifestations next to the Statue of Liberty, Niagara Falls, on Reykjavík Street. We also see a rainbow of six colours created by coloured smoke from skiers descending a steep mountain.
The film is intended to show the diversity of the marches of the LGBTIQ community. But there are also bright, memorable personalities in the tape, whose lives are revealed in about half a minute.
"The ABC of gay rights" – that's how reviewers rated this movie. It is intended for those who until now rarely thought about the LGBTIQ community.
The film reports that 52 countries around the world have legalized gay marriage, while 67 countries still criminalize homosexuality.
Gay Prides are held in 107 states. More than two hundred names of gay marches are registered.
The Executive Director of the National LGBT rights organization LGL, which organizes the Baltic Pride in Lithuania, Vladimir Simonko, was happy that the filmmakers, who had not planned to film in Vilnius and only went to the most famous parades in the biggest cities of the world, turned to the capital of Lithuania.
"I feel proud that Vilnius, my city, became so famous in the world," he insisted.
How did National Geographic TV find you?
After last year's Baltic Pride march in Vilnius, the information spread around the world very quickly. There was also a video made by the Aviation Center about flying in hot air balloons with rainbow flags. From what I understand, the filmmakers were very impressed with this footage. By the way, weather conditions did not allow flying over Vilnius during the parade.
You have worked for a long time at a Lithuanian film studio, you are a film production professional. What do you think about "Pride from Above"?
This is an excellent quality film with a very unexpected script. I've watched a lot of documentaries about gay marches, and I've never seen anything like this. "Pride from Above" is staggering in its scope. After watching this movie, you realize how big the world is and that you are a part of it. If other viewers feel it too, the filmmakers have achieved their goal. I watched the film again before our interview and was blown away by the cinematography and especially the editing. The filmmakers did a great job of combining the events of all continents into a single overall picture.
What message does Lithuania send to the world with this film?
Above all, Lithuania sends a message about its beauty. And Vilnius is a city where all people can live together, regardless of their differences. These shots are an invitation to visit Vilnius and Lithuania and enjoy the diversity. This is one way to make our country and its capital famous.
The first Baltic Pride march took place in Vilnius on May 8, 2010. About 500 participants (mostly public figures who came to support human rights) were protected from the angry crowd by more than a thousand armed officers. Could you have thought then that in 12 years, in 2022, 15 to 20 thousand cheerful people will march on Gediminas Avenue during the Pride and there will not be a single incident?
I'll tell you frankly – definitely not! I know that life changes, and sometimes it changes for the better. But it took courage to even dream about the fact that the LGBT community would be integrated into Lithuanian society so soon. A generation has grown up in Lithuania, which went to school already at the time of independence, which is open to change and promotes diversity. They call on their parents, employers, and politicians to change. Lithuanians who have returned from other countries also have a different attitude. Perhaps this will encourage the leaders of Vilnius to continue developing the policy of openness? Currently, the possibility of applying to organize the EuroPride in Vilnius in 2027 is being discussed with the Vilnius authorities.

Оrigin: lgl.lt