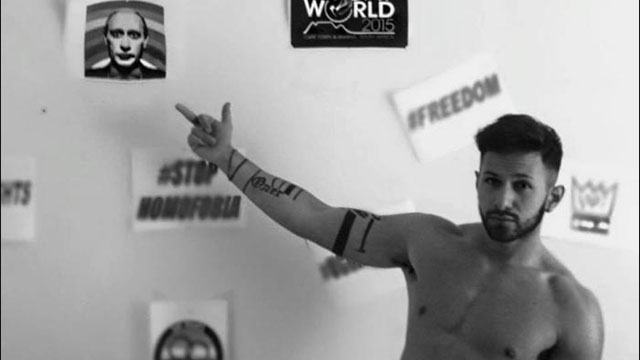 A native Belarusian claims the title of «Mr Gay World 2015»
This year «Mr Gay World» contest takes place in South Africa. 23 participants compete for the title. Formally, Belarus doesn't perform in the competition, but the delegate from Italy on this contest is originally from Minsk.
Naviny.by, photos from the personal archive of Artiom Cristofaro
This year «Mr Gay World» contest is held in South Africa. 23 participants compete for the title. Even thought, Belarus doesn't take part in the competition officially, it has its representative who came from Minsk, but performs for Italy in the contest. The 7th annual competition «Mr Gay World» will take place this weekend, April 26. The voting on the contest's site has already started.
«I'm half Belarusian, half Italian. At this competition I want to come out publicly and announce to the World that I'm very happy to be a gay», — stated in the Artiom Cristofaro's business card.
When Artiom was seven years old, he was adopted by an Italian family. His entire adult life he spent in the southern city of Bari. Artiom's biological mother, as well as his brother and sister are living in Belarus. Artiom has visited Minsk this autumn.
«I really liked the city, so many changes during the last year — he noted. — When I was leaving Belarus, I decided to forget my previous life before the new family, and get rid off all my memories, including the Russian language. Now I regret, because I cannot speak Russian fluently anymore, but it might be useful for my career».
«None of the child in the orphanage thinks this way: «Oh, Lord! I want to be given to any family, but those, which have two moms or two dads! I only hope my parents will have a traditional sexual orientation!» I underline, not a single kid in the orphanage thinks like that. All of them are just waiting for care and love. And hope to become part of the family, whether homosexual or heterosexual. As soon as the society finally acknowledge this fact, believe me, there will be much more happy children in the world,»- he said.
Currently, 22-year-old Artiom is a student of the university, in terms of the future career, he sees himself as a civil servant or politician. Recent months, he has studied in Poland due to student-exchange program.
«It is a great country, — he said. — Despite the fact that the Poles are very religious and there are a lot of stereotypes concerning LGBT community, I didn't face any aggression. I have lived in Warsaw. Probably, in provincial cities the situation can be different».
On the question why he decided to take part in «Mr. Gay World» Artiom replied that his main goal — the fight against homophobia:
«I know how to be a gay in Italy, where most of the problems are not solved behind the screen, it is a «political issue». But at the same time, I know how gays suffer in Russia and Belarus, where violent homophobia exists. A man can be beaten back and belly only because his sexual orientation is different».
As for the competition, Artiom sees the victory as an important experience and background toward representing and protecting the rights of the LGBT community.
22-year-old student from Bari University, Artiom Cristofaro is current 2014 «Mr Gay Italy» titleholder.