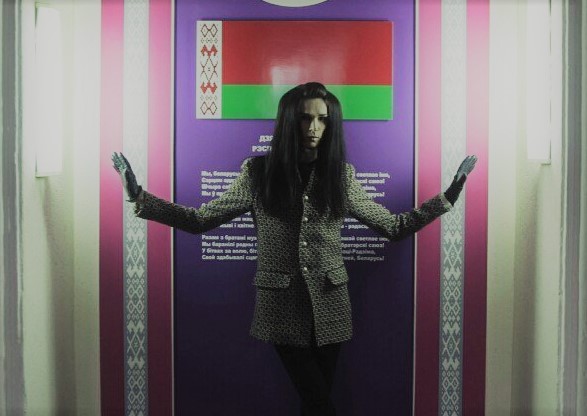 How does young man of androgynous appearance survive in the Belarusian village? LGBT-news from Belarus, Russia, Ukraine, Moldova, May — 2017, №1
How does young man of androgynous appearance survive in the Belarusian village? How did the Ukrainian Friendship of Nations Arch become the Conflict of Nations Arch? Russian medicine: treating or mutilating? LGBTQ news, May 2017 #1
A androgynous young man has rocked the Belarusian media space and gained supportive comments in social networks. Vlad Liksunov began his appearance experiments at school. In spite of his desire to become a beauty expert, Vlad, at the behest of parents, has learned for an accountant and moved to a village after graduation. Local population met him with curiosity. Keeping the dream on his mind, Vlad managed to adapt to new life circumstances, and moreover, he gained authority among local women.
«One of the women recently asked me to do her daughter's face for the graduation party. Such trust feeds my ego,» — Vlad says.
To all those who are afraid to express themselves, he advises to be themselves, and disregard other people's opinions, cause you only live once.
Vladimir Putin assured the ombudsman Tatyana Moskalkova to discuss the situation about harassment of gays in Chechnya with the security officials.
«… Of course, I will ask the Prosecutor General, the Minister of the Interior to support you on the subject that you have raised — concerning what is happening in our North Caucasus with people of unconventional sexual orientation, based on some information or rumor. It goes without saying, I hope that our colleagues will take action and support you,» the Russian president said.
Putin was forced to interfere by constant pressure from outside. Recently in Sochi, German Chancellor Angela Merkel called on the Russian president to «affect the situation in order to ensure the protection of minority rights.» The foreign ministers of France, Germany, Great Britain, the Netherlands and Sweden addressed a joint letter to Russian Foreign Minister Sergei Lavrov appealing for the Russian authorities to conduct immediate investigation on the crimes against homosexuals in the North Caucasus.
Ramzan Kadyrov, the head of Chechnya, also promised to assist in the investigation of «allegedly» persecution of homosexuals, who, in his opinion, are not a typical phenomenon for the Chechen people, «…unless we are talking about those who, not being a Chechen, call themselves so that they can get to the West» — he added.
 In St. Petersburg during the May Day procession, LGBT activists took a rally in support of Chechen gays, chanting «Kadyrov — to The Hague!» Besides they held a performance on Nevsky Prospect with bloody bodies lying on the ground covered with rainbow and Chechen flags. 10 activists were detained.
The most famous Russian gay fighter Vitaly Milonov also took part in the usual May Day march, and traditionally got involved into the conflict with LGBT-demonstrators. A deputy of the State Duma Milonov, who was guarded by police officers, called the walk of «perverts» in the general column unacceptable.
In St. Petersburg, a gay man asked for confidential psychological help and got public outing instead. The young man called the «hot line» of psychological center FROG and heard in response: «We do not serve gays.» Head of the center Alexander Bronshtein went to even greater lengths. He said in a rude form that homosexuality was a disease, and disclosed the man's sexual orientation in the social network.
The sexologist Lev Shcheglov commented on the behavior of the «pseudo-specialists»: «From mankind ethics' point of view, this case is an abomination, and from a professional one — why should professionals discuss the non-professional.»
More than 40% of transgender people in Russia refuse medical care by reason of transphobia. 17% of the interviewed people faced a denial of medical services due to a mismatch of their appearance and an identity document. 36% completely avoid visiting doctor because of the fear of a negative attitude towards them.
In Ukraine, some public figures saw propaganda of homosexuality in the Friendship of Nations Arch, painted in rainbow colors on the occasion of Eurovision. To avoid conflicts, the mayor of Kiev Vitali Klichko instructed to complement the painting with a fragment of Ukrainian ornament, although, reminded that earlier Arch was highlighted by different colors, and it did not cause any criticism.
«I have a photo of 2010, when the arch was illuminated with different colors, and no one had any objections,» — Klichko said.
The well-known LGBT activist Zoryan Kis presented his way to avoid the «destructive influence» of the LGBT symbol. In a comic video he offered homophobes to look at the Arch through different objects: from a beer bottle to a welding helmet.
In Ukraine, a new book well-known LGBT writer Oles Barlig has been published recently. «Animals will watch instead of you» is a collection of ten queer plays that are somehow related to LGBT subject. The main characters of the stories are the people of a wide range of sexual and gender identity with complicated personalities combining their own strengths and weaknesses. The book was released due to charitable donations.
LGBT activists in Moldova are planning a Solidarity March in front of  the president Igor Dodon, who vowed to «revoke» the LGBT movement immediately after his election (December 23, 2016). The festival «Moldova Pride 2017» will be held from 16 to 21 May. Organizers invite «everyone who managed to get rid of homophobia…»